I'm just sitting here on my new back porch, eating lunch. The birds are twittering back and forth. The cat is lurking and probably stalking those birds. Temperature is a balmy 81 degrees. It's August in Nebraska. I'm not making this up!
So why plot a book in small town Osceola, Nebraska? Seems like nothing happens here, right?
If you read the Orange book about Osceola, there was, at one time, a shoemaker, livestock sales barn, furniture store, billiard parlor (there still is one–in my basement!), lightning rod salesman and on and on!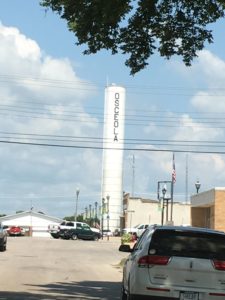 Yup. Things have changed. There's now a machine and die company, Quality Machine and Tools, Inc. run by Tim and Kelly.
We have two eateries: Terry's Drive-Inn run by … Terry, White Eagle and another one in the works.
There are several Ag-related businesses and the biggest bins this side of anywhere. Antiques store, plumber. I can't name them all! Plus the county seat, hospital and nursing home.
So again, why use Osceola for my book series? No Hobbits here. Life is pretty ordinary.
Unless … you make things up. :o)
Did you know there are sink holes and caves and secret pools here?
Only in my books.
Because I make things up!
And that's what writers do.